Griffin Area Concert Association Announces 2016-17 Concert Season Performers
The Griffin Area Concert Association (GACA) has announced its line up of


performers for its 2016 – 2017 concert season. "This upcoming season promises to be one of the most exciting we have offered in years," stated GACA President Art Hammond. "We are excited to announce that we have contracted with four outstanding performers who will bring a very diverse entertainment package to our stage."  All concerts will be held at the Griffin Auditorium, 234 East Taylor Street in Griffin. Each concert begins at 7:30 PM with the doors opening at 7:00 PM. All seating is "open". Click on this link for our membership and season ticket order form:
Back by popular demand and leading off the 2016-17 season will be the internatioanlly acclaimed and exciting piano virtuoso Thomas Pandolfi on Thursday, November 10, 2016.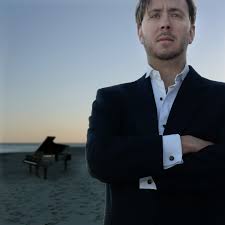 Thomas performed for the GACA in 2014 and literally brought the house down. In response to the large number of patron requests to have Pandolfi for an encore performance, we are proud to announce his return to the GACA stage. Thomas is sought after by audiences worldwide and showered with superlatives by critics for his passoniate artistry and amazing technique.
His concerts often feature not only the beloved masterpiece concerti by Tchaikovsky, Rachmaninov and Liszt, but also the equally brilliant ones by Paderewski, Rubinstein and Moszkowski. Additionally in the "Pops" genre, Thomas is considered the leading interperter of the works of George Gershwin.
GACA has been working for two years to bring Pandolfi back to Griffin. At his earlier concert in Griffin, Thomas received a rousing standing ovation for his first number and the audience rose repeatedly throughout his entire performance. He is simply the most amazing pianist performing today. This is the one concert you do not want to miss.
The second concert will feature the world-renowned trumpet virtuoso Brandon Ridenour
on Tuesday, January 24, 2017.
A virtuoso trumpeter and composer, Brandon Ridenour's brilliance and self-assurance on the concert stage led to his victory at the 2014 CAG Victor Elmaleh Competition. His wide-ranging activities as a soloist and chamber musician, paired with his passion for composing and arranging, are evident in his versatile performances and unique repertoire.
At the age of twenty, Brandon became the youngest member ever to join the iconic Canadian Brass, a position he held for seven years. While with the group, he played in distinguished venues around the world, performed on television, recorded ten albums, and received two Juno Award nominations.
Brandon has appeared as a concerto soloist with the National Symphony Orchestra, Los Angeles Philharmonic, and the Indianapolis, Jacksonville, and Edmonton Symphony Orchestras. He has played with leading ensembles including the New York Philharmonic, International Contemporary Ensemble, the Knights, the Royal Scottish National Orchestra, the Deutsche Kammerphilharmonie Bremen, and the Mahler Chamber Orchestra. Other solo performances include the Kennedy Center, Walt Disney Hall, and Carnegie Hall, where he most recently appeared in a performance of Penny Lane alongside Sting and James Taylor.
Brandon is the winner of the 2006 International Trumpet Guild solo competition and a recipient of the Morton Gould ASCAP Young Composer Award. He has recorded three solo albums; his latest release is Fantasies and Fairy Tales which features his own virtuosic arrangements of classical masterworks for trumpet and piano.
A graduate of The Juilliard School and an alumnus of Carnegie Hall's The Academy, Brandon began playing piano at the age of 5 under the tutelage of his father, Rich Ridenour, with whom he still performs frequently in recital and with Pops Orchestras. Click the link below to see a video of Brandon Ridenour.
http://liveonstage.biz/rosters/roster_16-17/video_16-17/BrandonRidenour.mp4
The GACA will present a special treat for its audiences with a return performance by the Grammy nominated Irish/American Supergroup Cherish The Ladies on Thursday, February 23, 2017. 
With their unique spectacular blend of instrumental talents, beautiful vocals, captivating arrangements and stunning step dancing, this powerhouse group combines all the facets of Irish culture and puts forth an immensely humorous and entertaining package. Performing for the GACA audience in 1994, we are proud to bring this dynamic, family oriented Supergroup back to the Griffin area.
"It is simply impossible to imagine an audience that wouldn't enjoy what they do," says the Boston Globe speaking of Cherish the Ladies, the long-running, Grammy-nominated, Irish-American super group that formed in New York City in 1985 to celebrate the rise of extraordinary women in what had been a male-dominated Irish music scene and has since toured the world, played the White House and the Olympics, recorded 15 outstanding albums including their latest, "An Irish Homecoming" which was also videotaped for an Emmy winning Public Television Special that is airing across America.
Under the leadership of the dynamic and irrepressible flute and whistle champion Joanie Madden, these ladies create an evening that includes a spectacular blend of virtuoso instrumental talents, beautiful vocals, captivating arrangements, and stunning step dancing. Their continued success as one of the top Celtic groups in the world is due to the ensembles ability to take the best of Irish traditional music and dance and put it forth in an immensely entertaining show.
They've won recognition as the BBC's Best Musical Group of the Year and named Top North American Celtic Group by both the Irish Music Awards and NPR's Thistle and Shamrock – not to mention having a street named after them in the Bronx! They've collaborated with such notable musicians as The Boston Pops, The Clancy Brothers, The Chieftains, Vince Gill, Nanci Griffith, Pete Seeger, Don Henley, Arlo Guthrie and Maura O'Connell as well as being the featured soloist with over 250 nights of symphony orchestras.
They are in constant demand worldwide as their reputation and admiration from both fans and critics alike continues to grow. Their name may come from a traditional Irish jig but after thirty years, they've proven that the jig is still not up as the ladies blaze forward into another decade of music making! Click the link below to see a video of Cherish The Ladies.

 The concert season concludes on Tuesday, April 11, 2017 as the highly acclaimed tenor trio Tenore` takes the stage. If you enjoy the sounds and performances of the famous
Canadian Tenors, you will love the performance by Tenore`. Tenore unleashes a glorious sound that breaks down musical barriers, draws together diverse cultures and celebrates a repertoire of lyrical sweetness and dramatic strength. They are known for their powerhouse vocals, rock star charisma and invitations with audiences to sing along with them. A powerful and family oriented experience you will not want to miss.
The Chosen Three—Jason Catron, Mark David Williams and David Wise – Have It All. They have wit, talent, charm and charisma in spades. And, separate from other tenor groups, they add one additional component to their sold out energizing performances – they regularly invite audiences everywhere to sing along with them, creating a powerful concert experience.
The brainchild of Jill Ann Siemens, founder of the Platinum-Selling Canadian Tenors, adoring fans can now see why Tenore is becoming the powerful musical phenomenon that it is. Fans can expect the experience of a lifetime, where the audience irresistibly leaps to their feet, sways to the music and sings along to beloved tunes that everyone knows. This creates an instantaneous connection between artist and concertgoer.
When a new musical group first arrives on the scene it is an entertainment industry cliché to talk about the "birth" of a new star. With the launch of Tenore, however, three "stars" really have been born. As solo acts, each shone brightly. Together, they are luminous. These remarkably talented and handsome young men have already accumulated a tremendous amount of professional experience and artistic accomplishment. Those individual legacies have now blended together to form something quite extraordinary. For an incredible musical experience, do not miss seeing Tenore` live in concert here in Griffin. Click the link below to see a video of Tenore`.
http://liveonstage.biz/rosters/roster_16-17/video_16-17/Tenore.mp4